News
Published on January 4th, 2016
Karmaflow postmortem
We would like to announce that we wrote a postmortem about Karmaflow, to give an honest insight in the project on which we worked for 2 years. You can read it here.
A big thanks to everyone who supported us through and after development of Karmaflow!
Published on December 17th, 2014
Karmaflow in Concert: The Rock Opera
We present to you the poster for Karmaflow in Concert: the Rock Opera

Why stop at a videogame when you have a complete rock opera in your hands? We are bringing the music and the story of the game live to the stage!

Get your tickets at karmaflowinconcert.com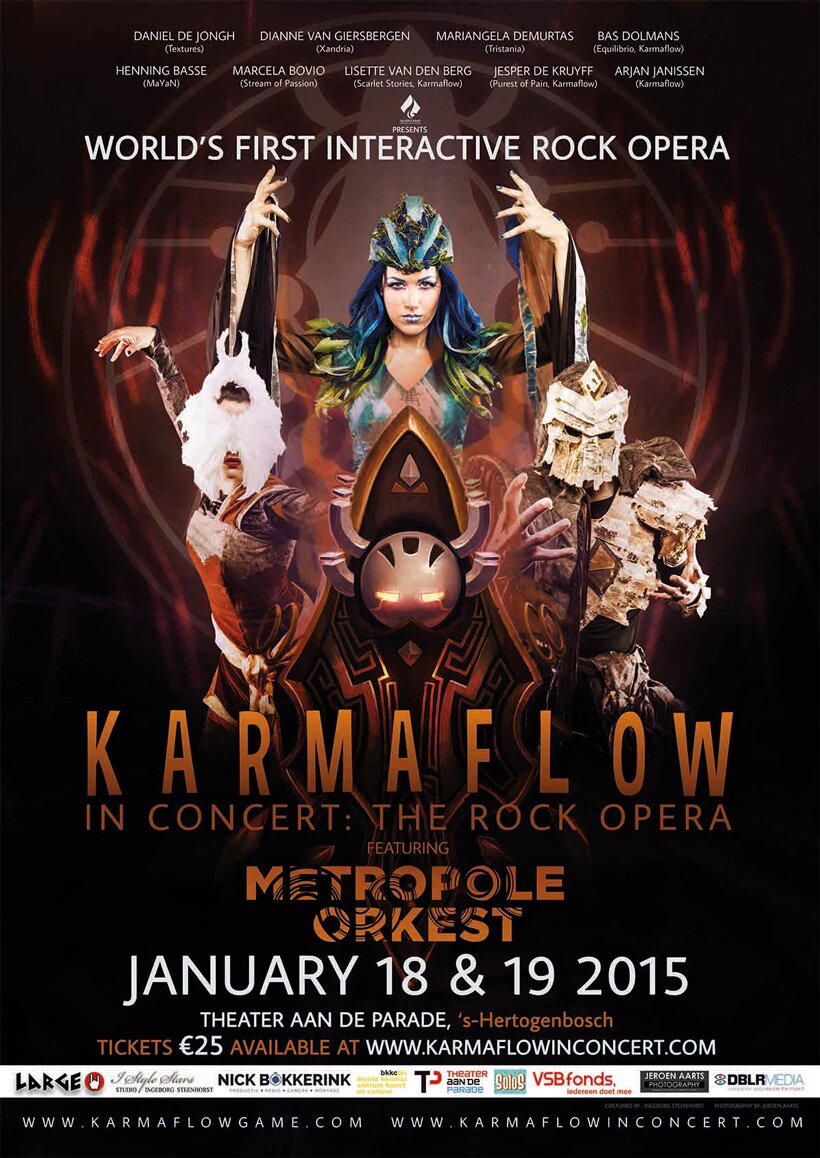 Published on December 15th, 2014
Vote for Indie of the Year
Is Karmaflow going to be Indie game of the year? That's up to YOU! Help us infuse the world with karma!
Vote at:

Published on December 6th, 2014
Epica joins the cast
A new video update featuring our friends from Epica: Simone Simons, Mark Jansen and Coen Janssen. They all did an amazing job and we are very happy they are part of the Karmaflow family, we can't wait to share the result with you!
Published on November 20th, 2014
Dianne van Giersbergen
We're happy to announce that Dianne van Giersbergen (Xandria) will be part of the Karmaflow in Concert: The Rock Opera cast on January 18th and 19th in Theater aan de Parade!

Get your tickets at karmaflowinconcert.com
Published on October 24th, 2014
Scream for Karmaflow
We want YOUR voice in Karmaflow: The Rock Opera Videogame
Click here to download the zip-file
Published on October 17th, 2014
New gameplay trailer
A new gameplay trailer has been released! Check it out:
Published on October 17th, 2014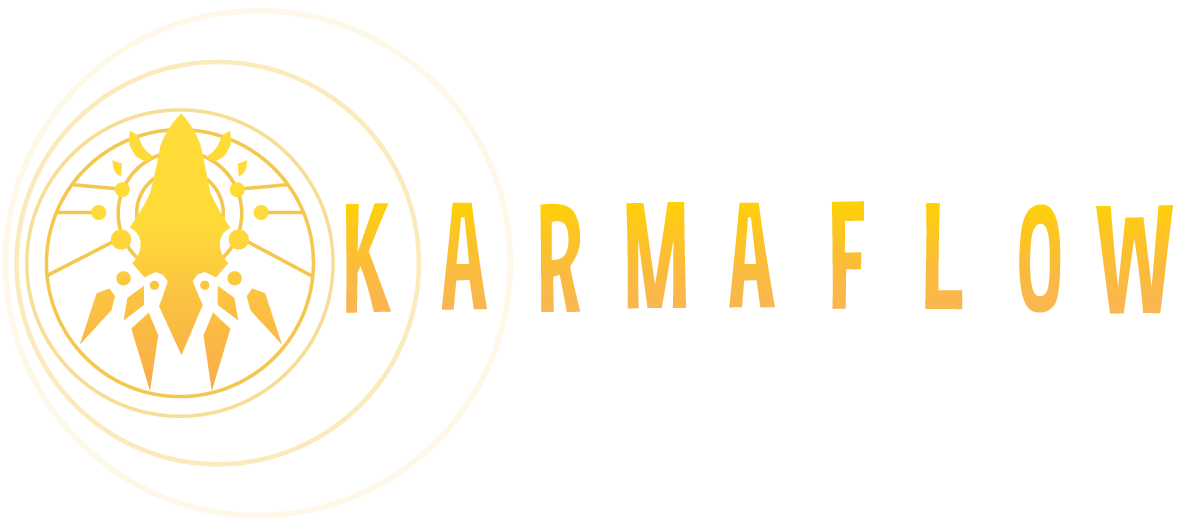 Press Release
KARMAFLOW skips STEAM Greenlight
Karmaflow: The Rock Opera Videogame is rocking Steam. "We couldn't believe it: Steam had put our videogame on the curated storefront without us having to go through the Greenlight process."

Ivo van Dijk is the Dutch composer who initiated 'Karmaflow: The Rock Opera Videogame'. Presenting gamers a setting loaded with music and a sung narrative, the videogame offers a unique puzzle platform experience.

You can see the sparks in his eyes as he looks back on what has happened so far. "Ever since our start-up in June 2013, the interest for our videogame has been huge. So to us as an indie game developer, skipping the Steam Greenlight procedure is a huge compliment."

Asked how he sees the near future, he feels excited and confident. "Karmaflow: The Rock Opera Videogame is our first production at Basecamp Games," Ivo continues. "Every day and all day, everyone on the team is full on to push out this baby of ours early 2015."

"Get your tickets. Join the party" "Secondly, we're very happy to announce our big release party, upcoming January. We'll be celebrating with a bang. Bringing the videogame to the stage as a live performance and groundbreaking rock opera. We are super stoked. All I can say is: stay tuned."

Karmaflow: The Rock Opera Videogame is developed and produced by Basecamp Games, an independent company based in the Netherlands. To see Karmaflow: The Rock Opera performed live on stage, join their Release Party on January 18 (World Premiere) and January 19, 2015. Buy your tickets on www.karmaflowinconcert.com. Karmaflow: The Rock Opera Videogame, will be available on STEAM for PC and Mac at store.steampowered.com/app/317940/. A worldwide release is set early 2015.

Published on Sep 30th, 2014
Firstlook preview by Gamekings
Karmaflow: The Rock Opera Videogame will be present at Firstlook 2014 on 11 and 12 October at Jaarbeurs Utrecht. Gamekings highlighted several indie-games that are playable at Firstlook, including Karmaflow (video @ 2:10) Click on the image below to watch the video (Dutch):

Published on June 25th, 2014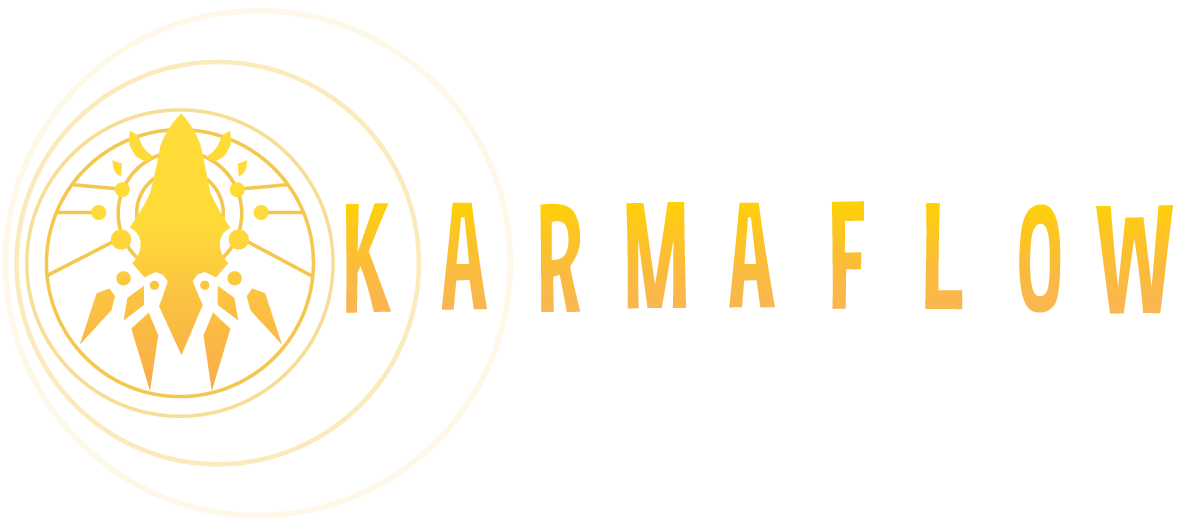 The world's first Rock Opera Videogame
Press Release
June 25, 2014
's-Hertogenbosch
The Netherlands
What began as a graduation assignment in September 2013, has become an ambitious, full-fledged and multidisciplinary art project. Karmaflow: The Rock Opera Videogame is the world's first rock opera videogame. In the game – a 'puzzle platformer' or 'adventure game' – music plays an important role. That is because the story is brought to you in the form of a rock opera. An all-star cast steps into the shoes of the game's characters and brings the story singing. This cast features:

Simone Simons (Epica)
Dani Filth (Cradle of Filth)
Marc Hudson (Dragonforce)
Tony Kakko (Sonata Arctica)
Alissa White-Gluz (Arch Enemy)

The musical score is performed by the Metropole Orkest (the world's biggest professional pop and jazz orchestra) and band members of Epica, Textures and Within Temptation.

Karmaflow: The Rock Opera Videogame has several storylines. Karmaflow sets itself out from other contemporary titles in multiple ways, with the game's massive emphasis on music being the most obvious. While other video games may treat sound and music design as a nice additional feature, in Karmaflow, music is everything to the game's experience. The persistent rock opera singing guides the players on an epic journey that changes depending on their choices, which in turn affects the tone of the music heard.
Making choices is very important for the course of the game and the music, which – just like in the real world – revolves around balance and opposites like men versus nature, opposite religions, rich versus poor, et cetera.


The game will be released early 2015, for PC and MAC

Watch the trailer and find more information on our Karmaflow: The Rock Opera Videogame website.

At the end of this year the concert series Karmaflow in Concert starts. Early 2015 there will be a big finale, in the form of two shows in the Dutch city 's-Hertogenbosch. Karmaflow in Concert: The Rock Opera will feature as much original cast members as possible.

More information about Karmaflow in Concert? Click here.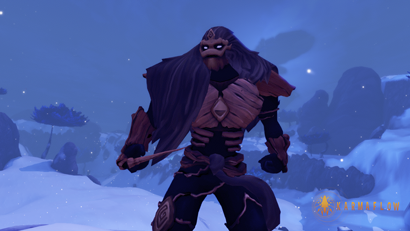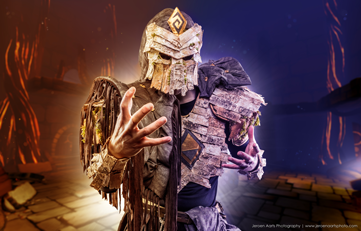 One of the characters from Karmaflow: The Rock Opera Videogame (L) and a personification from Karmaflow in Concert (R)
You can follow us on Facebook, Twitter, Google+, Youtube & Twitch.


Contact:

press@karmaflowgame.com